Workflow Type:
Galaxy
PAIRED-END workflow. Align reads on fasta reference/assembly using bwa mem, get a consensus, variants, mutation explanations.
IMPORTANT:
For "bcftools call" consensus step, the --ploidy file is in "Données partagées" (Shared Data) and must be imported in your history to use the worflow by providing this file (tells bcftools to consider haploid variant calling).
SELECT THE MOST ADAPTED VADR MODEL for annotation (see vadr parameters).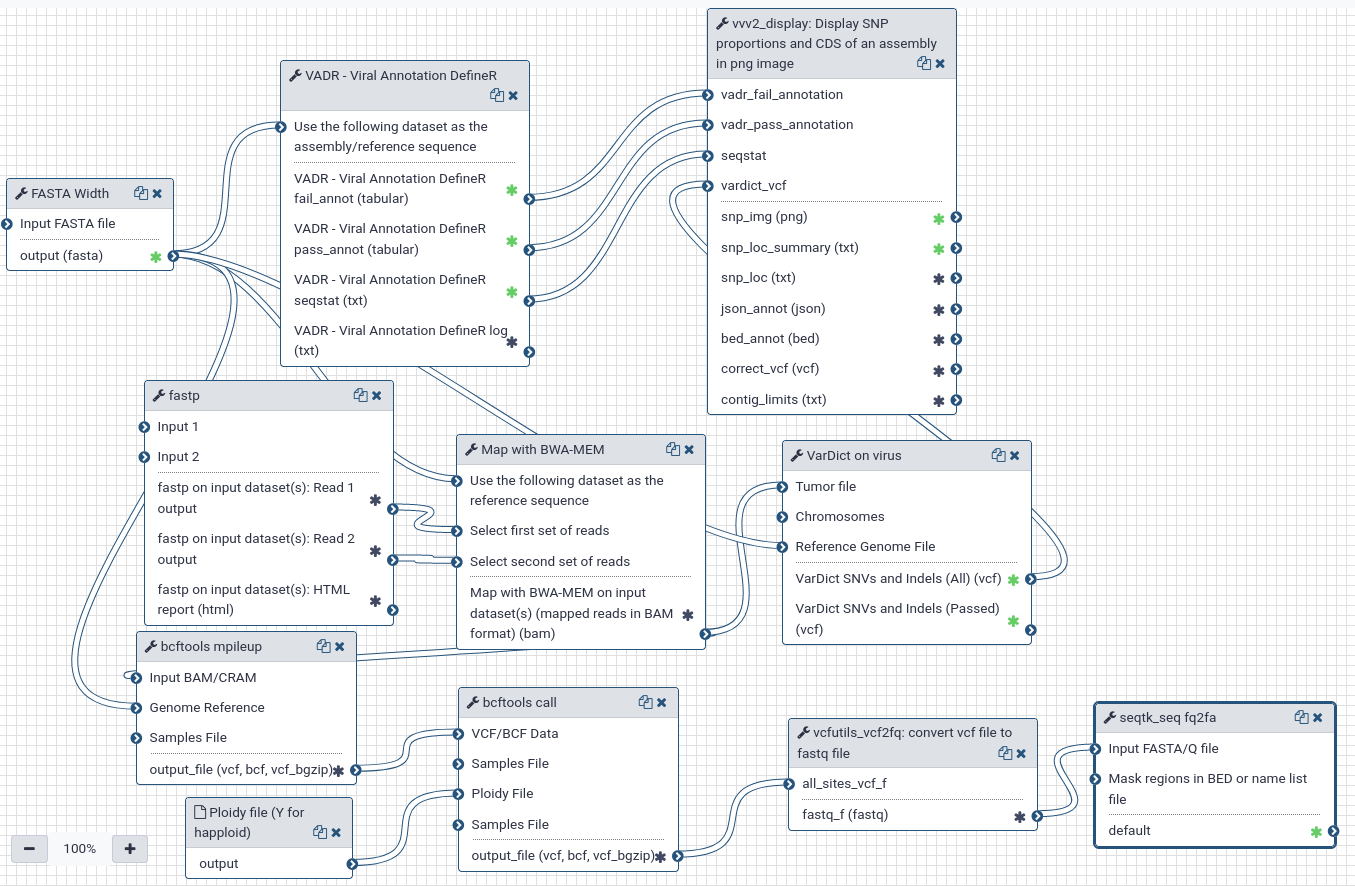 Inputs
| ID | Name | Description | Type |
| --- | --- | --- | --- |
| Ploidy file (Y for happloid) | Ploidy file (Y for happloid) | n/a | |
Steps
| ID | Name | Description |
| --- | --- | --- |
| 0 | FASTA Width | toolshed.g2.bx.psu.edu/repos/devteam/fasta_formatter/cshl_fasta_formatter/1.0.1 |
| 1 | fastp | toolshed.g2.bx.psu.edu/repos/iuc/fastp/fastp/0.23.2+galaxy0 |
| 3 | VADR - Viral Annotation DefineR | testtoolshed.g2.bx.psu.edu/repos/f.touzain/vadr/vadr/0.1.0 |
| 4 | Map with BWA-MEM | toolshed.g2.bx.psu.edu/repos/devteam/bwa/bwa_mem/0.7.12.1 |
| 5 | bcftools mpileup | toolshed.g2.bx.psu.edu/repos/iuc/bcftools_mpileup/bcftools_mpileup/1.4.0.0 |
| 6 | VarDict on virus | toolshed.g2.bx.psu.edu/repos/iuc/vardict_java/vardict_java/1.8.3+galaxy1 |
| 7 | bcftools call | toolshed.g2.bx.psu.edu/repos/iuc/bcftools_call/bcftools_call/1.4.0 |
| 8 | vvv2_display: Display SNP proportions and CDS of an assembly in png image | testtoolshed.g2.bx.psu.edu/repos/f.touzain/vvv2_display/vvv2_display/0.1.10 |
| 9 | vcfutils_vcf2fq: convert vcf file to fastq file | testtoolshed.g2.bx.psu.edu/repos/f.touzain/vcfutils_vcf2fq/vcfutils_vcf2fq/1.16 |
| 10 | seqtk_seq fq2fa | fastq2fasta conversion toolshed.g2.bx.psu.edu/repos/iuc/seqtk/seqtk_seq/1.3.3 |
Outputs
| ID | Name | Description | Type |
| --- | --- | --- | --- |
| _anonymous_output_1 | _anonymous_output_1 | n/a | |
| _anonymous_output_3 | _anonymous_output_3 | n/a | |
| _anonymous_output_4 | _anonymous_output_4 | n/a | |
| _anonymous_output_5 | _anonymous_output_5 | n/a | |
| _anonymous_output_6 | _anonymous_output_6 | n/a | |
| _anonymous_output_7 | _anonymous_output_7 | n/a | |
| _anonymous_output_8 | _anonymous_output_8 | n/a | |
| _anonymous_output_9 | _anonymous_output_9 | n/a | |
| _anonymous_output_10 | _anonymous_output_10 | n/a | |
Version History
Open

master
509ed8e
Activity
Views: 161
Created: 28th Jun 2023 at 10:52
Last updated: 28th Jun 2023 at 10:56

Attributions