Workflow Type:
Galaxy
Assembly with Flye; can run alone or as part of a combined workflow for large genome assembly.
What it does: Assembles long reads with the tool Flye
Inputs: long reads (may be raw, or filtered, and/or corrected); fastq.gz format
Outputs: Flye assembly fasta; Fasta stats on assembly.fasta; Assembly graph image from Bandage; Bar chart of contig sizes; Quast reports of genome assembly
Tools used: Flye, Fasta statistics, Bandage, Bar chart, Quast
Input parameters: None required, but recommend setting assembly mode to match input sequence type
Workflow steps:
Long reads are assembled with Flye, using default tool settings. Note: the default setting for read type ("mode") is nanopore raw. Change this at runtime if required.
Statistics are computed from the assembly.fasta file output, using Fasta Statistics and Quast (is genome large: Yes; distinguish contigs with more that 50% unaligned bases: no)
The graphical fragment assembly file is visualized with the tool Bandage.
Assembly information sent to bar chart to visualize contig sizes
Options
See other Flye options.
Use a different assembler (in a different workflow).
Bandage image options - change size (max size is 32767), labels - add (e.g. node lengths). You can also install Bandage on your own computer and donwload the "graphical fragment assembly" file to view in greater detail.
Infrastructure_deployment_metadata: Galaxy Australia (Galaxy)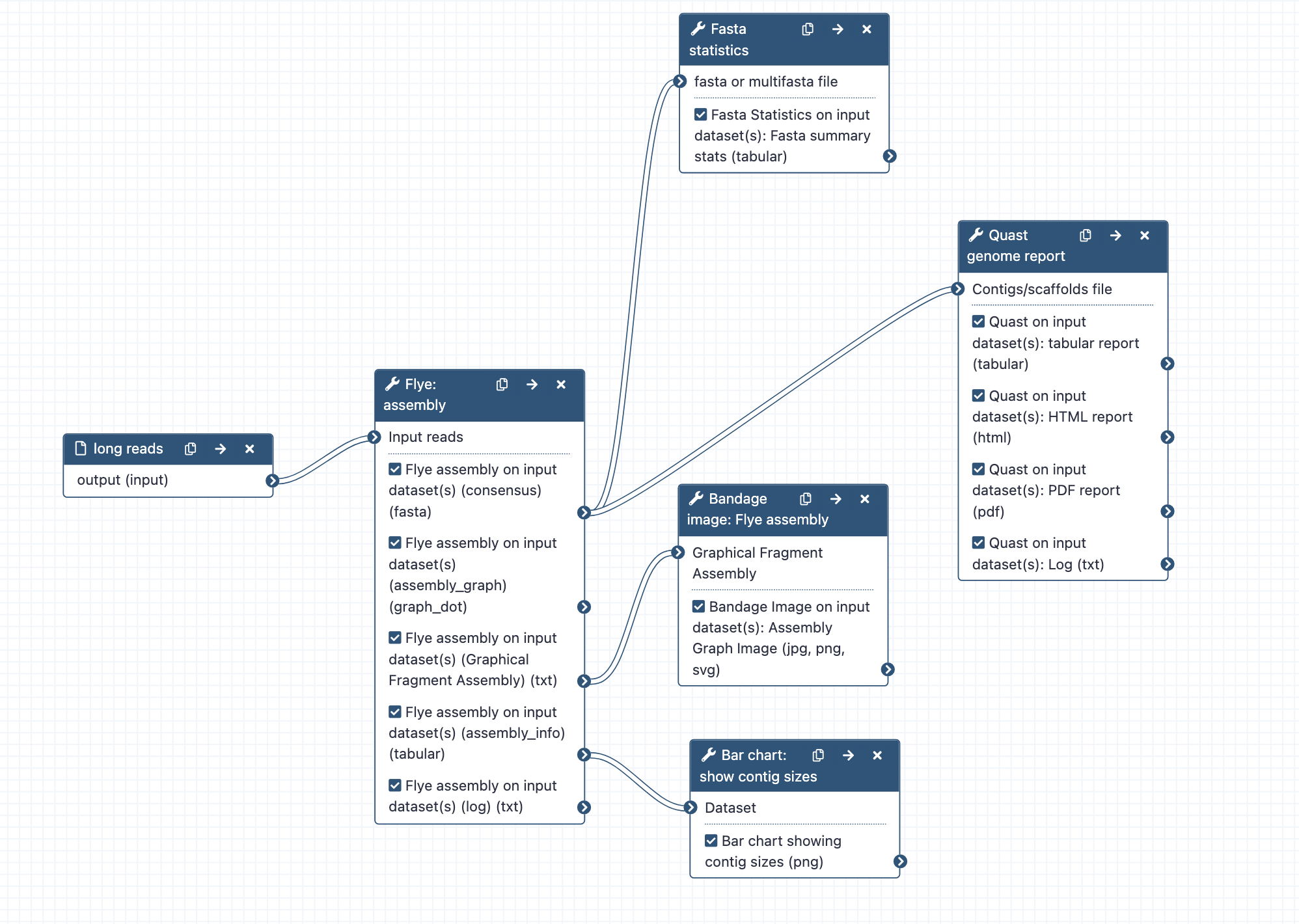 Inputs
| ID | Name | Description | Type |
| --- | --- | --- | --- |
| long reads | long reads | n/a | |
Steps
| ID | Name | Description |
| --- | --- | --- |
| 1 | Flye: assembly | toolshed.g2.bx.psu.edu/repos/bgruening/flye/flye/2.8.2+galaxy0 |
| 2 | Fasta statistics | toolshed.g2.bx.psu.edu/repos/iuc/fasta_stats/fasta-stats/1.0.3 |
| 3 | Bandage image: Flye assembly | toolshed.g2.bx.psu.edu/repos/iuc/bandage/bandage_image/0.8.1+galaxy3 |
| 4 | Quast genome report | toolshed.g2.bx.psu.edu/repos/iuc/quast/quast/5.0.2+galaxy1 |
| 5 | Bar chart: show contig sizes | barchart_gnuplot |
Outputs
| ID | Name | Description | Type |
| --- | --- | --- | --- |
| Flye assembly on input dataset(s) (consensus) | Flye assembly on input dataset(s) (consensus) | n/a | |
| Flye assembly on input dataset(s) (assembly_graph) | Flye assembly on input dataset(s) (assembly_graph) | n/a | |
| Flye assembly on input dataset(s) (Graphical Fragment Assembly) | Flye assembly on input dataset(s) (Graphical Fragment Assembly) | n/a | |
| Flye assembly on input dataset(s) (assembly_info) | Flye assembly on input dataset(s) (assembly_info) | n/a | |
| Flye assembly on input dataset(s) (log) | Flye assembly on input dataset(s) (log) | n/a | |
| _anonymous_output_1 | _anonymous_output_1 | n/a | |
| Bandage Image on input dataset(s): Assembly Graph Image | Bandage Image on input dataset(s): Assembly Graph Image | n/a | |
| Quast on input dataset(s): Log | Quast on input dataset(s): Log | n/a | |
| Quast on input dataset(s): PDF report | Quast on input dataset(s): PDF report | n/a | |
| Quast on input dataset(s): tabular report | Quast on input dataset(s): tabular report | n/a | |
| Quast on input dataset(s): HTML report | Quast on input dataset(s): HTML report | n/a | |
| Bar chart showing contig sizes | Bar chart showing contig sizes | n/a | |
Version History
Open

master
9541ba8
Citation
Syme, A. (2021). Assembly with Flye. WorkflowHub. https://doi.org/10.48546/WORKFLOWHUB.WORKFLOW.225.1
Activity
Views: 2326 Downloads: 18
Created: 8th Nov 2021 at 05:07
Last updated: 9th Nov 2021 at 01:11
Annotated Properties
Topic annotations
Operation annotations

Attributions

Collections