Workflow Type:
Nextflow
microPIPE was developed to automate high-quality complete bacterial genome assembly using Oxford Nanopore Sequencing in combination with Illumina sequencing.
To build microPIPE we evaluated the performance of several tools at each step of bacterial genome assembly, including basecalling, assembly, and polishing. Results at each step were validated using the high-quality ST131 Escherichia coli strain EC958 (GenBank: HG941718.1). After appraisal of each step, we selected the best combination of tools to achieve the most consistent and best quality bacterial genome assemblies.
The workflow below summarises the different steps of the pipeline (with each selected tool) and the approximate run time (using GPU basecalling, averaged over 12 E. coli isolates sequenced on a R9.4 MinION flow cell). Dashed boxes correspond to optional steps in the pipeline.
Micropipe has been written in Nextflow and uses Singularity containers. It can use both GPU and CPU resources.
For more information please see our publication here: https://bmcgenomics.biomedcentral.com/articles/10.1186/s12864-021-07767-z
Infrastructure_deployment_metadata: Zeus (Pawsey)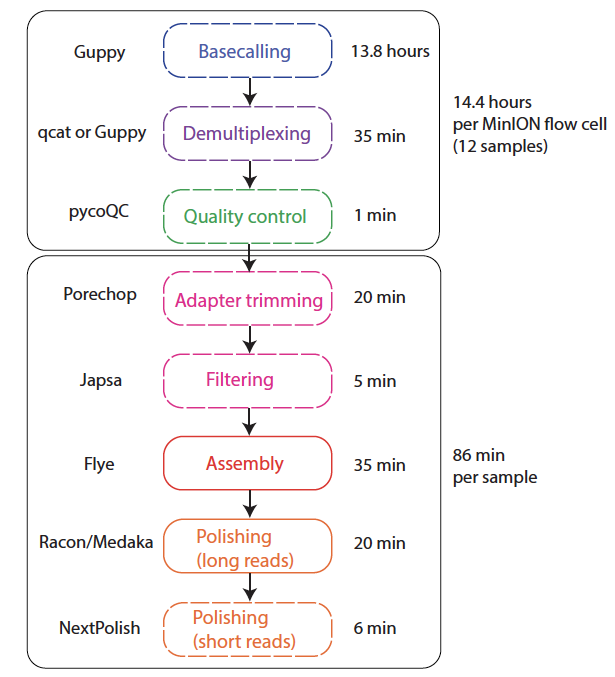 Version History
Open

master
6fdfdf8
Citation
Murigneux, V. (2021). microPIPE: a pipeline for high-quality bacterial genome construction using ONT and Illumina sequencing. WorkflowHub. https://doi.org/10.48546/WORKFLOWHUB.WORKFLOW.140.1
Activity
Views: 2719 Downloads: 62
Created: 9th Aug 2021 at 01:17
Last updated: 6th Sep 2021 at 23:50

Attributions

Collections