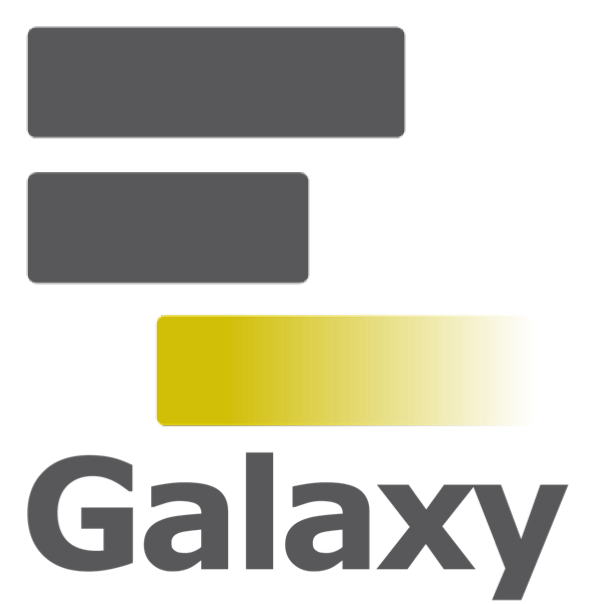 Galaxy Protein Ligand Complex MD Setup
Workflow Type:
Galaxy
Protein Ligand Complex MD Setup tutorial using BioExcel Building Blocks (biobb)
---
This workflow must be run in biobb.usegalaxy.es. Please, click here to access.
---
Based on the official GROMACS tutorial.
---
This tutorial aims to illustrate the process of setting up a simulation system containing a protein in complex with a ligand, step by step, using the BioExcel Building Blocks library (biobb). The particular example used is the T4 lysozyme L99A/M102Q protein (PDB code 3HTB), in complex with the 2-propylphenol small molecule (3-letter Code JZ4).
---
Copyright & Licensing
This software has been developed in the MMB group at the BSC & IRB for the European BioExcel, funded by the European Commission (EU H2020 823830, EU H2020 675728).
Licensed under the Apache License 2.0, see the file LICENSE for details.

Steps
| ID | Name | Description |
| --- | --- | --- |
| 0 | Pdb | biobb_io_pdb_ext |
| 1 | ExtractHeteroatoms | biobb_structure_utils_extract_heteroatoms_ext |
| 2 | ExtractMolecule | biobb_structure_utils_extract_molecule_ext |
| 3 | ReduceAddHydrogens | biobb_chemistry_reduce_add_hydrogens_ext |
| 4 | FixSideChain | biobb_model_fix_side_chain_ext |
| 5 | BabelMinimize | biobb_chemistry_babel_minimize_ext |
| 6 | Pdb2gmx | biobb_gromacs_pdb2gmx_ext |
| 7 | AcpypeParamsGmx | biobb_chemistry_acpype_params_gmx_ext |
| 8 | GmxTrjconvStr | biobb_analysis_gmx_trjconv_str_ext |
| 9 | MakeNdx | biobb_gromacs_make_ndx_ext |
| 10 | GmxTrjconvStr | biobb_analysis_gmx_trjconv_str_ext |
| 11 | Genrestr | biobb_gromacs_genrestr_ext |
| 12 | CatPdb | biobb_structure_utils_cat_pdb_ext |
| 13 | AppendLigand | biobb_gromacs_append_ligand_ext |
| 14 | Editconf | biobb_gromacs_editconf_ext |
| 15 | Solvate | biobb_gromacs_solvate_ext |
| 16 | Grompp Ion | biobb_gromacs_grompp_ext |
| 17 | Genion | biobb_gromacs_genion_ext |
| 18 | Grompp Min | biobb_gromacs_grompp_ext |
| 19 | Mdrun Min | biobb_gromacs_mdrun_ext |
| 20 | MakeNdx | biobb_gromacs_make_ndx_ext |
| 21 | GmxEnergy Min | biobb_analysis_gmx_energy_ext |
| 22 | Grompp NVT | biobb_gromacs_grompp_ext |
| 23 | Mdrun NVT | biobb_gromacs_mdrun_ext |
| 24 | GmxEnergy NVT | biobb_analysis_gmx_energy_ext |
| 25 | Grompp NPT | biobb_gromacs_grompp_ext |
| 26 | Mdrun NPT | biobb_gromacs_mdrun_ext |
| 27 | GmxEnergy NPT | biobb_analysis_gmx_energy_ext |
| 28 | Grompp MD | biobb_gromacs_grompp_ext |
| 29 | Mdrun MD | biobb_gromacs_mdrun_ext |
| 30 | GmxRgyr | biobb_analysis_gmx_rgyr_ext |
| 31 | GmxRms Exp. | biobb_analysis_gmx_rms_ext |
| 32 | GmxRms | biobb_analysis_gmx_rms_ext |
| 33 | GmxTrjconvStr | biobb_analysis_gmx_trjconv_str_ext |
| 34 | GmxImage | biobb_analysis_gmx_image_ext |
Outputs
| ID | Name | Description | Type |
| --- | --- | --- | --- |
| mypdb_prot.pdb | mypdb_prot.pdb | n/a | |
| myextract_heteroatoms.pdb | myextract_heteroatoms.pdb | n/a | |
| myextract_molecule.pdb | myextract_molecule.pdb | n/a | |
| myreduce_add_hydrogens.pdb | myreduce_add_hydrogens.pdb | n/a | |
| myfix_side_chain.pdb | myfix_side_chain.pdb | n/a | |
| mybabel_minimize.mol2 | mybabel_minimize.mol2 | n/a | |
| mypdb2gmx.zip | mypdb2gmx.zip | n/a | |
| mypdb2gmx.gro | mypdb2gmx.gro | n/a | |
| myacpype_params_gmx.itp | myacpype_params_gmx.itp | n/a | |
| myacpype_params_gmx.gro | myacpype_params_gmx.gro | n/a | |
| myacpype_params_gmx.top | myacpype_params_gmx.top | n/a | |
| mygmx_trjconv_str_prot.pdb | mygmx_trjconv_str_prot.pdb | n/a | |
| mymake_ndx.ndx | mymake_ndx.ndx | n/a | |
| mygmx_trjconv_str_lig.pdb | mygmx_trjconv_str_lig.pdb | n/a | |
| mygenrestr.itp | mygenrestr.itp | n/a | |
| mycat_pdb.pdb | mycat_pdb.pdb | n/a | |
| myappend_ligand.zip | myappend_ligand.zip | n/a | |
| myeditconf.gro | myeditconf.gro | n/a | |
| mysolvate.gro | mysolvate.gro | n/a | |
| mysolvate.zip | mysolvate.zip | n/a | |
| mygrompp_ion.tpr | mygrompp_ion.tpr | n/a | |
| mygenion.gro | mygenion.gro | n/a | |
| mygenion.zip | mygenion.zip | n/a | |
| _anonymous_output_1 | _anonymous_output_1 | n/a | |
| mymdrun.edr | mymdrun.edr | n/a | |
| mymdrun.log | mymdrun.log | n/a | |
| mymdrun.cpt | mymdrun.cpt | n/a | |
| mymdrun.xvg | mymdrun.xvg | n/a | |
| mymdrun.trr | mymdrun.trr | n/a | |
| mymdrun.gro | mymdrun.gro | n/a | |
| mymdrun.xtc | mymdrun.xtc | n/a | |
| _anonymous_output_2 | _anonymous_output_2 | n/a | |
| mygmx_energy.xvg | mygmx_energy.xvg | n/a | |
| _anonymous_output_3 | _anonymous_output_3 | n/a | |
| _anonymous_output_4 | _anonymous_output_4 | n/a | |
| _anonymous_output_5 | _anonymous_output_5 | n/a | |
| _anonymous_output_6 | _anonymous_output_6 | n/a | |
| _anonymous_output_7 | _anonymous_output_7 | n/a | |
| _anonymous_output_8 | _anonymous_output_8 | n/a | |
| _anonymous_output_9 | _anonymous_output_9 | n/a | |
| _anonymous_output_10 | _anonymous_output_10 | n/a | |
| _anonymous_output_11 | _anonymous_output_11 | n/a | |
| _anonymous_output_12 | _anonymous_output_12 | n/a | |
| _anonymous_output_13 | _anonymous_output_13 | n/a | |
| _anonymous_output_14 | _anonymous_output_14 | n/a | |
| _anonymous_output_15 | _anonymous_output_15 | n/a | |
| _anonymous_output_16 | _anonymous_output_16 | n/a | |
| _anonymous_output_17 | _anonymous_output_17 | n/a | |
| _anonymous_output_18 | _anonymous_output_18 | n/a | |
| _anonymous_output_19 | _anonymous_output_19 | n/a | |
| _anonymous_output_20 | _anonymous_output_20 | n/a | |
| _anonymous_output_21 | _anonymous_output_21 | n/a | |
| _anonymous_output_22 | _anonymous_output_22 | n/a | |
| _anonymous_output_23 | _anonymous_output_23 | n/a | |
| _anonymous_output_24 | _anonymous_output_24 | n/a | |
| _anonymous_output_25 | _anonymous_output_25 | n/a | |
| _anonymous_output_26 | _anonymous_output_26 | n/a | |
| _anonymous_output_27 | _anonymous_output_27 | n/a | |
| _anonymous_output_28 | _anonymous_output_28 | n/a | |
| mygmx_rgyr.xvg | mygmx_rgyr.xvg | n/a | |
| _anonymous_output_29 | _anonymous_output_29 | n/a | |
| mygmx_rms_exp.xvg | mygmx_rms_exp.xvg | n/a | |
| _anonymous_output_30 | _anonymous_output_30 | n/a | |
| mygmx_image.trr | mygmx_image.trr | n/a | |
Version History
Frozen

Version-3
f82202f
Frozen

Version-1
779961b
Citation
Hospital, A., & Bayarri, G. (2023). Galaxy Protein Ligand Complex MD Setup. WorkflowHub. https://doi.org/10.48546/WORKFLOWHUB.WORKFLOW.295.3
Activity
Views: 1607
Created: 24th Mar 2022 at 14:47

Attributions